# Get Sorted
Domains / Hosting
or browse the Help Centre by category
How to create an FTP account in CWP
File Transfer Protocol is a standard network protocol used for the transfer of computer files between a client and a server on a computer network.
An FTP client (software) can be used to log into a server and access and edit files as desired.
FTP client can also be used to upload files, e.g. website.
FTP login information can be accessed/retrieved in ClientZone.
Follow the steps below to create an FTP account.
Log Into CWP via ClientZone.
Select the 'Hosting' tab.
Under the Shared Hosting select your domain.
Click on the 'Website Manager', then 'Login to Website Manager'.
Once in CWP select 'File Management' from the menu on the left-hand side.
Then from the drop-down select 'FTP Accounts'.
Select the blue button 'Create FTP Account'.
Add in the settings:
Login
Directory
Password
Select 'Save'.
Your new details will be added to the FTP Accounts list.
How to access a server via using FTP client:
There are various free FTP clients to choose from, such as FileZilla and Cyberduck.
Download the mail client.
Login.
Server name = Domain name
Username and Password
Port 21.
Once authorised you will have full access to your hosted domain folders.
Need your FTP access details? 
The login details were sent in the FTP documentation on registration.
Follow these instructions if you need to reset the password:
Log into ClientZone.
Click on the 'Hosting' tab.
Select the domain in question.
Click on 'Website Manager'.
Click on 'Reset Password'.
Copy the FTP (cPanel) username and password that pop up on your screen.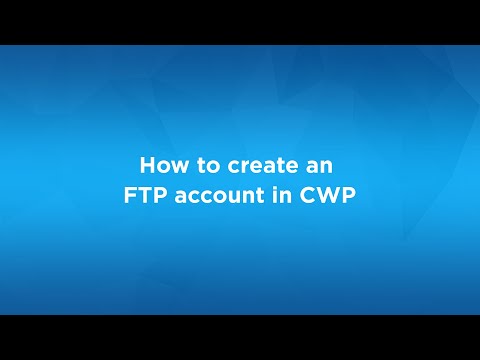 How to create an FTP account in CWP

01:37
Was this article helpful?
Still have questions?
Contact us on any of the platforms below