# Get Sorted
Domains / Hosting
or browse the Help Centre by category
How to import a MySQL database via cPanel
You can import a MySQL database via cPanel in the Hosting section of ClientZone.
Log into cPanel via ClientZone
Log into ClientZone.

Click on the 'Hosting' tab.

Select your domain on the right hand side.

Click on the 'Website Manager' button.

Now select 'Log into Website Manage'.
Check if you have an existing MySQL database
Before you can import a database, we recommend you do a quick check to see if one is available.
Scroll down and click on 'MySQL Database'.

Any database that is available will be listed on this screen.

To continue, click on the home button at the top of the screen.
Click on the 'PHPMyAdmin' option.

You'll see the database available on the left hand side.

Select the database to continue.

Now click on the 'Import' option to continue.

Under 'File to import' click on the 'Choose File' button and select the database stored on your computer.

Leave all options as default and make sure your format is set correctly.

Click on 'Go' to import your file.
Exporting a MySQL database.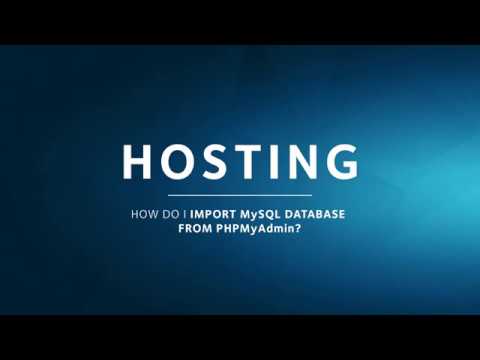 How to import a MySQL database from PHPMyAdmin

01:21
Was this article helpful?
Still have questions?
Contact us on any of the platforms below