# Get Sorted
Domains / Hosting
or browse the Help Centre by category
How to sign up for a new Shared Hosting package
Shared hosting is when multiple websites are hosted on one server.
Think of the server as a pie, and everyone with a website gets a piece of the pie. People choose this option because it is inexpensive as resources are shared with other users. Many websites can be hosted on a single server and is maintained by the hosting provider.
Shared hosting offers two operating platforms to host on, namely Linux and Windows. To decide whether to go for Linux or Microsoft hosting you will have to identify what your website's requirements are.
Linux is generally a more popular option because of its affordability, stability, and many features.
Compare Shared and Dedicated Hosting. 
Sign up for a Shared Hosting package via the afrihost.com website.
Follow the steps below to sign up for a Shared Hosting package via the Afrihost website.
Go to afrihost.com.
Select the 'Hosting' tab from the menu at the top of the page.
Select 'Shared Linux Web Hosting' or 'Shared Windows Web hosting'.
Select the Hosting package you require and click 'Sign Up Now!'.
This will take you to the Order form, Select the 'Web Hosting' tab.
Select either the Linux or Windows Shared Hosting tab.
Ensure your chosen package is correct and click 'Next Step'.
Select your Domain Option.
New Domain - Register a new domain that does not exist yet.
Transfer Domain - If you have a domain and want to transfer to Afrihost.
Self Management - If you already have a domain and want to manage it yourself.
New Domain - Enter the domain you want to register and select from the available domains.
Transfer Domain - Enter the existing domain name.
What is a domain name? 
A domain name is a set of letters and numbers which make up the web address of your website. Read What is a domain name for more information.
This will take you to your shopping cart. Please confirm the product in the cart is correct. You will see the pro-rata rate you will pay for this month and the full monthly payments thereafter.
Select a payment method. Add new or use existing payment details.
Accept the terms and conditions.
Select 'Complete Order'.
When the sign up is completed you will be sent a Welcome e-mail.
The e-mail will contain your login details to your ClientZone and your cPanel or CWP login details so you can manage your domain from the control panel.
These will include your FTP details so you may upload your domain to the public_html folder in your cPanel or CWP.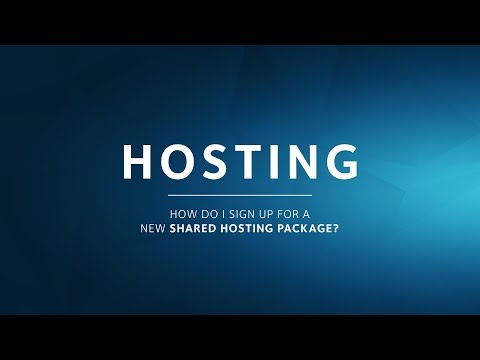 How to sign up for a new Shared Hosting package

02:05
Was this article helpful?
Still have questions?
Contact us on any of the platforms below