# Get Sorted
Domains / Hosting
or browse the Help Centre by category
How to create a mailbox in CWP
Log into ClientZone.
Select the 'Hosting' tab.
Under the Shared Hosting section, select your domain.
Click on 'Website Manager'.
Select the 'Log into Website Manager' button.
Select 'Email Accounts' in the side menu.
Click on 'Add a New MailBox' button on the right of the web panel.
Add a mailbox window will appear. Fill in the details to create the mailbox.
Email Address. eg: info@yourdomain.com

Mailbox Size. eg: 20000MB

Password. Ensure the password is strong, use the random password generator option.
Click the 'Add' button to create the mailbox.
Once successfully created, your new mailbox will be displayed in the Mailbox List. You can edit the usage limit, change the password or add a new Mailbox.
You can view your mailbox settings on the right-hand side of the mailbox list panel, use these settings to configure your emails in a mailbox client (eg: Outlook, Apple Mail, Thunderbird) or on a mobile device (eg: Android or iOS).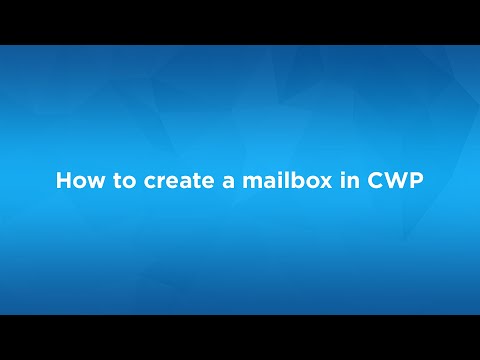 How to create a mailbox in CWP

01:37
Was this article helpful?
Still have questions?
Contact us on any of the platforms below