# Get Sorted
My Home Network
or browse the Help Centre by category
How to secure your WiFi router
When you receive your internet router, it is usually preconfigured with default log in details, this is the standard for all routers, unless your ISP has preconfigured the device for you with your own unique log in credentials. If not, this means anyone aware of the default log in details can access your router. When you get a new router, it is advisable to change these default log in details and enable the WiFi security log in encryption and not leave the network open for any device to connect to.
Change your router's admin credentials and SSID
What is an SSID? 
SSID stands for Service Set Identifier. It is the name of your WiFi network.
Your router will come pre-configured with a default administrator password required to access the user interface and the router will be preconfigured with a default SSID (WiFi Name) and WiFi password.
It is recommended that you change these default details and create new admin log in credentials and choose a new SSID and password for your network.
How to change your router's admin login credentials on the D-Link 825:
You may have been required to do this when first logging into the router.
Log in to the router.
Open your Internet browser and enter the routers IP address: 192.168.0.1 into the address bar and press enter.
From the menu on the left-hand side, select 'System'.
Below that select 'Configuration'.
Under 'User' enter the new password, confirm the new password
Click 'Save'.
You have successfully changed your routers admin log in credentials.
Enable WiFi encryption security on your router.
When setting up your new access details ensure the WiFi encryption is turned on. There are many options available on the routers such as WPA2-PSK (TKIP), WPA2-PSK (AES), and WPA2-PSK (TKIP/AES).
Wired Equivalent Privacy (WEP), WiFi Protected Access (WPA), and WiFi Protected Access II (WPA2) are the primary security setting that can found. WEP is the oldest and WPA2 is the newest. On WPA2 you will find Temporal Key Integrity Protocol (TKIP) and Advanced Encryption Standard (AES) are the two different types of encryptions used.
Set your WiFi encryption setting to WPA2-PSK (AES).
WPA2-PSK is considered the strongest form of security. It is designed to be indecipherable because of the randomness in the encryption keys that are generated.
How to change your routers WiFi security settings:
Log in to the router.
Select 'Wi-Fi' from the menu on the left and underneath select 'Basic Settings'.
You can change your routers access details, on the right-hand side, under 'Security Settings', select 'WPA2-PSK'.
Ensure the encryption type is set to AES.
Click 'Apply' to save these settings.
Change your WiFi password.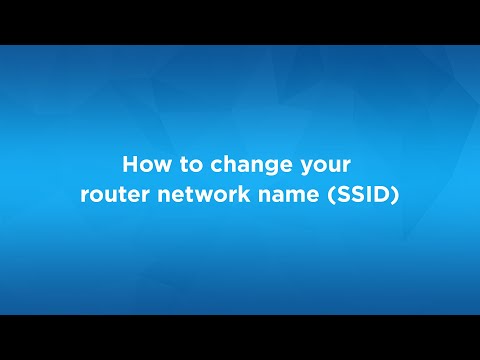 How to change your router network name SSID

01:28
Was this article helpful?
Still have questions?
Contact us on any of the platforms below