# Get Sorted
Fibre Broadband
or browse the Help Centre by category
How to set up your Fibre Connection (Openserve and Vodacom)
​These instructions apply ONLY to Openserve and Vodacom clients. Openserve and Vodacom connect via a PPPoE connection. All other fibre providers connect via a DHCP connection.
If you are with a different fibre line provider, please read this article for help with How to set up your Fibre Connection for all other providers in our Help Centre.
What is the difference between DHCP & PPPoE? 
DHCP connects by obtaining an IP address and then connects automatically and should not require set up. PPPoE connects via an ISP and requires a username and password.
1. Set up your Fibre equipment.
After the CPE /ONT box is installed on your property, you will need to set up your fibre router equipment.
Connect the ethernet cable from LAN Port 1 on the ONT device (The device installed by the fibre technicians) into the WAN/Internet port on your Afrihost fibre router.
Ensure the CPE is powered up and lights are showing on the device.
Connect another ethernet cable from any of the LAN ports on your fibre router to your computer OR connect wirelessly to the router's network (2.5 GHz or 5 GHz). The password can be found on a sticker underneath the router or on the welcome note found inside the box.
Plug the router power cable into the walls power supply.
The ethernet 'LINK' light must show on the ONT and the WAN light on your router. If these lights are present, it means that your fibre router is powered up correctly.
You will then be able to connect to the internet at 10Mbps for 2 hours in order to activate your fibre account.
2. Activate your Fibre account.
Once your router is connected to the CPE you need to activate your fibre account.
3. Connect to the internet.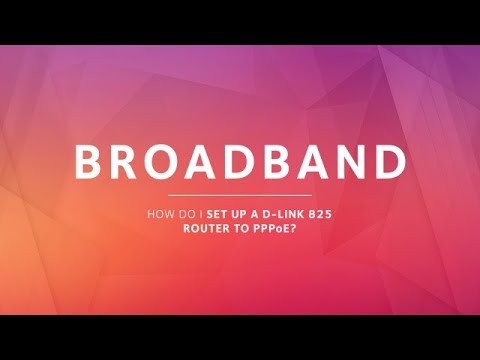 How to set up a D-Link 825 router to PPPoE

03:45
Was this article helpful?
Still have questions?
Contact us on any of the platforms below